The Met Office have issued further updates towards today's thunderstorm (Wednesday, August 2).
It was first reported that the thunderstorm could last until 7pm tonight, which has now been extended until 8pm this evening.
The thunderstorm risk has been extended further north and further south in England and Wales.
Heavy showers and thunderstorms are set to take place in Abergavenny throughout today.
The showers are likely to be persistent and slow-moving.
There could be 20-25mm of rainfall within an hour, and possibly 40mm in two to three hours in some places.
Lightning and hail could also feature today and the expected weather could lead to flooding and travel disruptions.
Driving conditions are expected to become increasingly more difficult throughout the day due to spray, standing water, and possibly hail, and will increase journey times and affect public transport.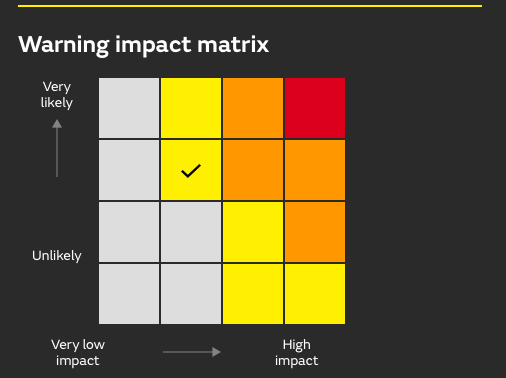 The Met Office's warning impact matrix shows that the thunderstorm is likely to happen with a low impact.