Play has all the right notes...as Eric would say
Monday 12th February 2018 4:14 pm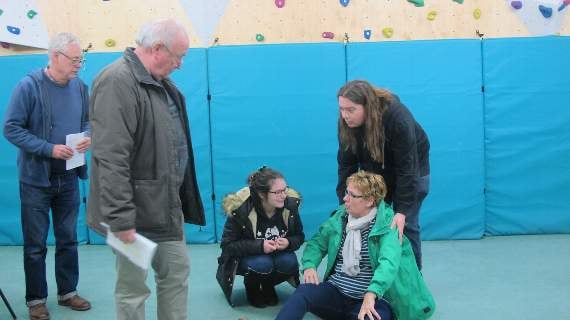 Subscribe newsletter
Subscribe to our email and get updates right in your inbox.
THERE are times in the theatre when despite everyone's best efforts and for no discernible reason, a production just doesn't quite gel and this is the phenomenon which befell Abergavenny Theatre Group with its latest run at the Borough Theatre.
As Eric Morecambe, might have said, Victor Lucas's spooky, seasonal comedy, Laughter in the Dark had all the right notes but not necessarily in the right order.
This was a play with all the elements of a 1930s Ealing comedy and as such perhaps needed to be performed with a slightly more definite tongue in cheek to distinguish clearly between pastiche and sometimes clunky production.
In her notes, the director Fiona Angwin expresses her concern at some of the 'dialogue and attitude' in the play, which was written and set in the 1950s and outlines her attempts to counter some of the more extreme examples and maybe exploring the parody avenue could have achieved this without slowing the pace because sadly there were times when the action flagged and became muddled and the comedy was not precise enough to carry the audience along with it.
That said there were some lovely individual performances - Les Hayes as always was a delight as hen-pecked husband Herbert Budgett, who with the help of his not-quite-as-dead-as -thought uncle, finally took his wife in hand, while Shane Bassett offered a nice comic turn as Cyril.
His comedy routine with Rob Tollman, a ghost and a drink was obviously well rehearsed and one of the highlights of the performance.
Theatre Group veteran John Geraghty played the role of Gripe the butler to full comic effect and Clare Jacob commanded attention as the shrewish Alathea.
Becci Townley played circus runaway Bunny with obvious relish as did Bleddyn Richards as the family solicitor and Leila Gatrad as Belinda, the daughter with a mind of her own.
Nice cameos came from Jodi Smith, Andrew Williams, and Marilyn Balkwill.
Perhaps the main problem with this production was the play itself. While it had its moments, by and large it was rambling and lacked purpose, which in turn meant it lacked pace and although there were a few jumps and the odd laugh there was not enough to bring everything together as a whole. Sadly just shoehorning in a knife throwing Red Indian and a dodgy film producer was not quite enough...
On the whole, I don't think this is a production that will go down in the annals of ATG history but its certainly to the credit of the company that they're not sticking to the tried and tested but having the courage to explore the versatility of their cast...any company which could pull off The Crucible and then turn its hand to slightly outrageous comedy can't be going too far wrong.
Comments
To leave a comment you need to create an account. |
All comments 0