A collection of silver owned by Sir Ray Tindle, the founder of Tindle Newspapers, has sold at auction for £123,000.
Spanning a wide selection of designs and historic periods, it was the largest such collection that auctioneers Ewbank's had offered in over 30 years of business.
The top lot was a composite rat tail silver service that sold for £1,300.
"The sale and its reception among the trade and collectors was a fitting tribute to an exceptional man whose work and charitable endeavours touched so many lives," said the auctioneers' Chairman Chris Ewbank, who had personally undertaken the huge task of cataloguing every lot.
Sir Ray Tindle CBE DL, who died earlier this year, was one of the great entrepreneurial newspaper publishers of the past 60 years.
He built a company that stretched across Southern England and Wales, earning the name 'Mr Farnham' in the Surrey town from where he directed his business interests.
"He had a fine eye for quality that matched his head for business and passion for the newspaper industry, especially as it served local communities," says Chris Ewbank, who knew Sir Ray and whose company advertised with his publishing group for the past 30 years.
"I have rarely seen so many early silver spoons together. Many are from the 18th century, but some are even earlier."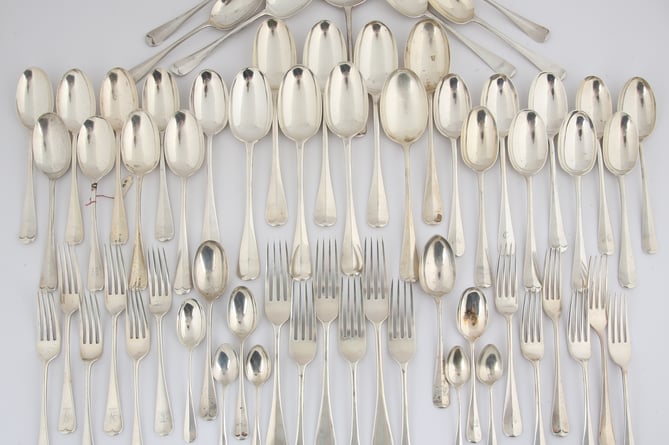 A composite rat tail silver service
(Ewbanks)
A newspaper man through and through, Sir Ray acquired his first newspaper, the Tooting & Balham Gazette, with his £300 demob payment after serving with the 1st Battalion Devonshire Regiment in the Far East between 1944 and 1947, rising to the rank of captain.
Extremely proud of his association with the now-disbanded regiment, he greatly mourned its passing, going so far as to name his home in Farnham 'Devonshire House' in its honour.
The Tooting and Balham paper was the first of many launches and acquisitions over the years that created the widespread and highly influential Tindle Newspapers Ltd, a byword in local news and community reporting, that became the fourth largest UK local newspaper group by number of titles published.
It now owns local newspapers, websites and radio stations covering large parts of Surrey, Hampshire, Essex, Somerset, Devon and Cornwall, Wales, Ireland, the Channel Isles and the Isle of Man.